Anna Park (South Korea, 1996) presents at T293, for her first solo show in Europe, a new series of charcoal drawings that weaves in and out of representation to abstraction.
Anna Park – as she describes herself – is a natural people-watcher. In her childhood, by constantly moving from one city to another, she developed a voyeuristic approach to life that later became evident in her artistic practice. The careful observation of those contrasting experienced environments serves as an investigation of human and social behaviour, that the artist then translates into a personal level through her distinct style.
Park's creative process begins with the selection from her own stock imagery of a photograph, usually of a crowded place. The artist uses the sharp lines and cutting shapes of the crowd as guiding elements to set up the architecture of the composition. After visualizing the image in black and white, Park initiates a second, more instinctive approach. The creative power flows now spontaneously from the charcoal through the paper, filling the space with a seductive rhythm. The result is an ever striking composition, orchestrated with a refined use of light and shadow.
The exhibition title On Tilt suggests being on the edge of an emotional breakdown. The highly elaborated scenes depicted on the drawings are claustrophobic compositions built on an undefined number of elements. Images are freezed in their most impactful moments, and time seems to have stopped at its most dramatic instant. By creating these ephemeral frames of ecstasy, the artist offers an opportunity to slowly unveil the powerful imagery that lies underneath them, instigating an absorbing discovery experience.
Through her black and white powerful lines, we can find noteworthy references that derive from sources as diverse as Hollywood productions of the Twenties, passing through comics language and culminating into interesting Futuristic mentions. The deformities that characterizes Anna Park's works – though pervaded with distinct old-school references – are a reflection of our own time.  Unpretentiously, her paintings end up being precise observations of the sense of ecstasy and anxiety the last generation has been dealing with in a crescendo stream, standing as an often disturbing but always impeccable insight of contemporaneity.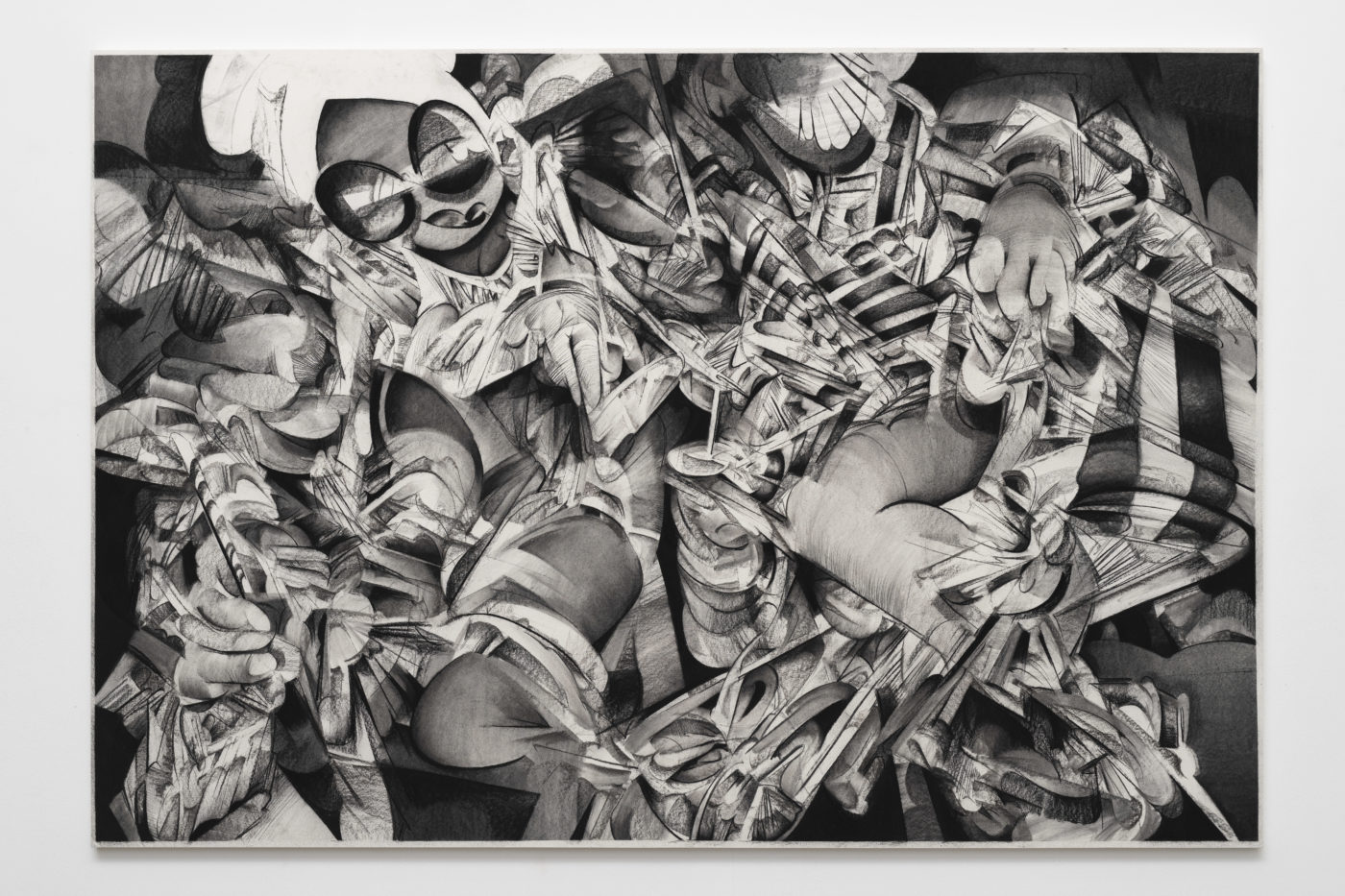 Anna Park sees narrative, figurative situations as if they'd been put in a blender. The bodies she draws in charcoal extend from edge to edge on a paper surface, twisting, bending, overlapping, the background becomes one with the foreground —hands, mouths, legs, hair. The way she uses the medium, soft and hard edges come together merging histories and traditions. Gestures utilized by the Mannerists and evident in the distorted, abstracted figures in paintings by Francis Bacon, communicate to an audience today years after the language was invented and continues to evolve. The content of her drawings, such as "This is America" (2020), could be undefined shapes strewn into a pile, a mosh pit seen from above, or a woman (many?) hands stretched, felt, grabbed, pulled or just hanging out with friends. Park's exhibition at T293, "On Tilt" could be described as a series of universes that are connected to time or particular moments, the absence of others, and a global quarantine. Her world, our world, is on tilt. Our experiences are in a blender, decomposed and reassembled in unfamiliar forms.
Park's work is a portrait of a strange time, masked, but also chaotically beautiful. The surface level environments resemble an abyss, but could also be the most delightful place we've ever been. Look at every tone, every shade of black and grey, every space defined by light— grisaille— and be open to read in between the lines. Whether subjectively portraying grief, chance, such as in "Coin Flip" (2020) or celebration, Park's drawings are a secure if warped mirror, reflecting the universal anxiety of the unknown.