Isabella Ducrot – Opere a ripa
Review by Sara de Chiara
An exceptional collector of textiles, Seth Siegelaub described their special role in the history of humanity because of their unique dual character: fragile to the natural elements and human use, at the same time resistant and durable, textiles became vehicles of communication through the narratives and cultural values embedded in their motifs.
A collector of textiles in turn, gathered on several travels to Asia, Isabella Ducrot is primarily intrigued by the structure of the fabric itself, where its essential duality originates: the interweaving of opposing elements – weft and warp – which gives an unpredictable strength to the individual threads, making the fabric resilient, durable, bearer of a message. The recent textile works brought together in Opere a ripa, a name that evokes the ancient Roman river port and its symbolic meaning as a place of exchange, take the form of female dresses, emptied of the body, flattened like tailor models on which the artist painted different patterns.
The large installation Turbante (2014) unfolds along the walls of the exhibition space: the light fabric of a turban is unrolled and surrounded by a paper frame that enhances the weightless quality of the cotton, turning it into a long white paper scroll waiting to be written. As a counterpart to these works in which an absent body is evoked, the body is the protagonist of the series of erotic drawings on paper from the 90s. Traced with a loose gesture, they stage another duality, here entrusted to a physical embrace, to intertwined bodies.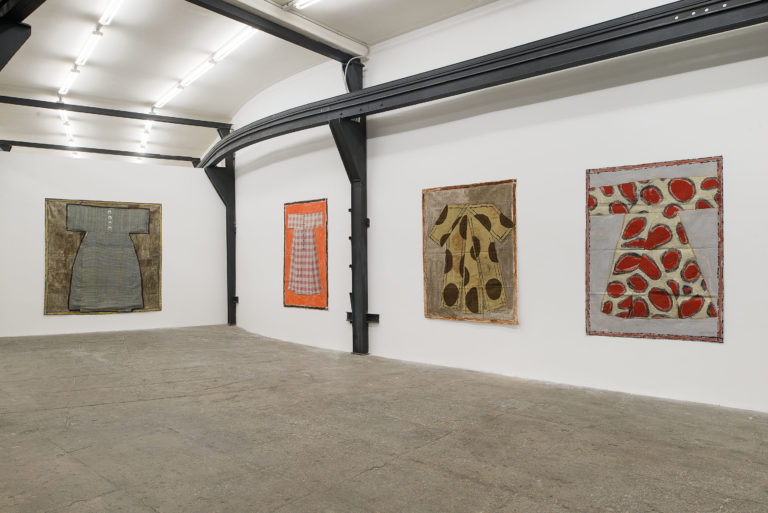 ---
James Beckett – The Sceptical Structures of Max
Review by Adam Carr
The Sceptical Structures of Max by Zimbabwean born and Amsterdam based artist James Beckett instigates a rudimentary examination of our built world to tease out ways in which industrial production is the result of and subsequently influences our behaviour.
The exhibition mines Beckett's skill of compounding study with material use in intensively diligent yet open ended ways and that leads to new pathways in the language of exhibition presentation. Yet despite the former, at the core of Beckett's exhibition is something mundanely normal: chipboard. Punctuating the exhibition are a number of extended captions, mimicking information tropes synonymous with cultural history museums, and through them we learn of Max Himmelheber, the mastermind of chipboard.
Himmelheber's innovations contribute to an ongoing and ever prosperous yet cautionary tale of industrial production, both reflected and refracted in Beckett' works that salvage chipboard from the streets. In their formality – including shape, volume and composition – the works are as much sculptural as they are painterly, with their diversions from wall to floor. The works' material employment, which deal with aspects of ground and fore, house publications and artefacts, including a number of chipboard samples drawn from the Max Himmelheber-Stiftung.
As with a number of Beckett's previous works, the installation delicately tows the line between revelation and complication, unearthing a wide net of potential uses and misuses of invention and industry, and their affect and effect on our contemporary society.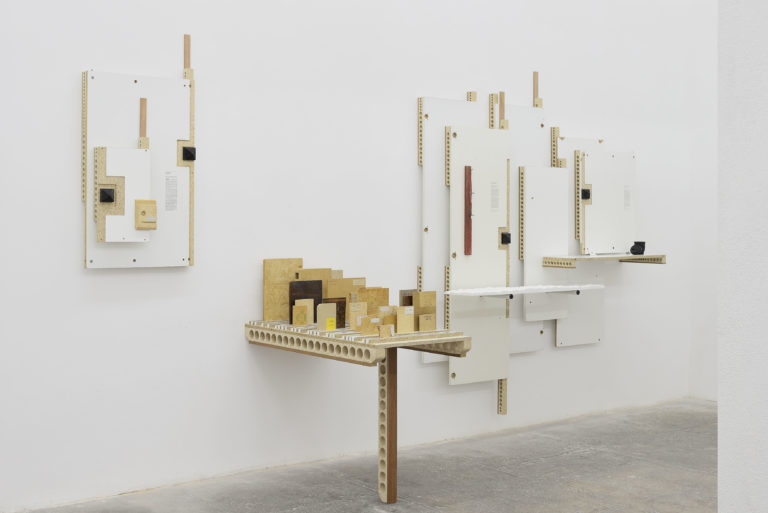 ---
Tendai Mupita – Kuedza Mudzimu nesengere
Review by Hélio Menezes
Tendai Mupita is a visual sarungano; a storyteller that conveys imagination, feeling and mytical sensations through colorful, bright compositions.
Drinking from the long tradition of African orature, his images are dramatic, vivid and fluid, like the texture of dreams. As visions or reflections on trickling water, Mupita's works give shape to imaginative, hybrid beings and quasi-geometric forms through an unique combination of color, light and line – or the absence of it –, which exist somewhere between abstraction and figurativism. Neither mosaic, nor pointillist, his compositions explore the circularity of dots and mandalas as homage to Shona culture, especially its vernacular architecture.
From Shona oral art, his works invoke non-human figures, which are portrayed traditionally as trickster heroes: anthropomorphized animals with magical powers who embody opposite truths or behaviors, often used to create comprehension of the unknown or to teach people how to deal with contradictions in life.
The paintings presented in "Kuedza Mudzimu nesengere" ("Testing the waters") express a cosmovision in which the natural world, spiritual realm and human existence are intrinsically linked. They create an aura of illumination maybe only achieved through meditative states, where linearity is washed away by the power of ancestrality, the revelation of self and the depth of knowing through subjective observation. Mupita's first solo show in Europe is an awakening for wider viewers to the unique talent of this contemporary Zimbabwean artist; as well as an invitation to dive with him in another way of experiencing the world(s), which is as mystical as it is real.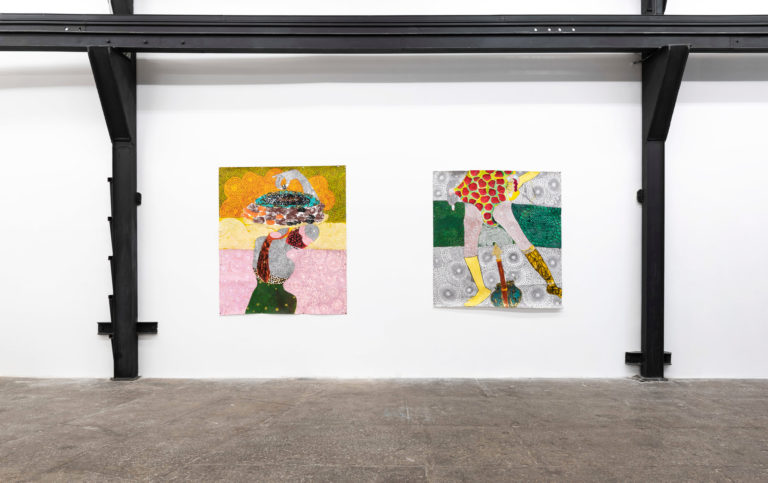 ---
Anna Park – On Tilt
Review by Katy Diamond Hamer
Anna Park sees narrative, figurative situations as if they'd been put in a blender. The bodies she draws in charcoal extend from edge to edge on a paper surface, twisting, bending, overlapping, the background becomes one with the foreground —hands, mouths, legs, hair. The way she uses the medium, soft and hard edges come together merging histories and traditions. Gestures utilized by the Mannerists and evident in the distorted, abstracted figures in paintings by Francis Bacon, communicate to an audience today years after the language was invented and continues to evolve. The content of her drawings, such as "This is America" (2020), could be undefined shapes strewn into a pile, a mosh pit seen from above, or a woman (many?) hands stretched, felt, grabbed, pulled or just hanging out with friends. Park's exhibition at T293, "On Tilt" could be described as a series of universes that are connected to time or particular moments, the absence of others, and a global quarantine. Her world, our world, is on tilt. Our experiences are in a blender, decomposed and reassembled in unfamiliar forms.
Park's work is a portrait of a strange time, masked, but also chaotically beautiful. The surface level environments resemble an abyss, but could also be the most delightful place we've ever been. Look at every tone, every shade of black and grey, every space defined by light— grisaille— and be open to read in between the lines. Whether subjectively portraying grief, chance, such as in "Coin Flip" (2020) or celebration, Park's drawings are a secure if warped mirror, reflecting the universal anxiety of the unknown.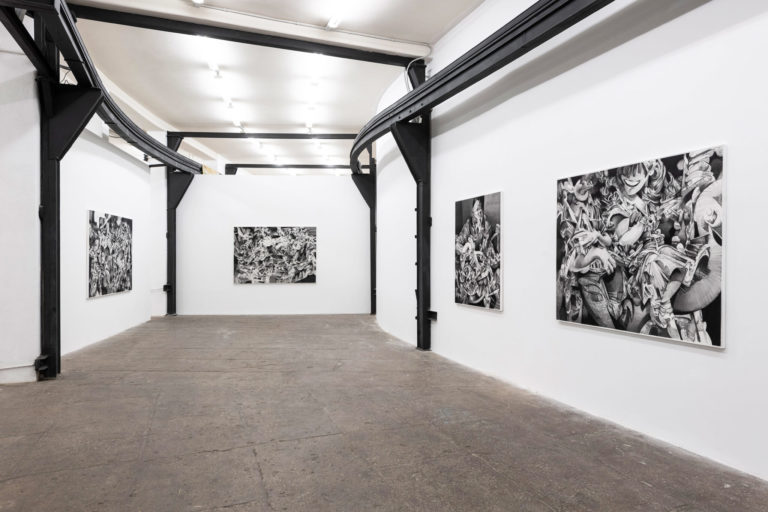 ---
Lorenzo Vitturi – Jugalbandi 
Review by Giulia Colletti
Amorphous entities inhabit t293 gallery space, emanating an uncanny aura. Indulging the pathetic fallacy, the totemic features of Lorenzo Vitturi's sculptures – a dazzling hodgepodge of brightly coloured fibres, scraps, glass fragments, and contrasting textures – seems to belong to guiding daemons while, in fact, they allude to the outlandish balance of fortuitous assemblages of worldly objects. Vitturi's research conflate the act of abstraction and play in connecting heterogeneous tokens together – from Indian rugs to Murano glass – to re-balance canonical hierarchies, and to suggest cartographies where people and artefacts intersect in a compositional funambulism, at times resembling Matt Calderwood's or Stephanie Mann's works.
In the frame of his latest exhibition, Vitturi weaves tapestries of multifaceted and fringed narratives. Eschewing prosaic claims of authorship, he embraces a polyphonic form of production. The installation veers between the artist's gaze of Rajasthan – whose photographic documentation of piles of objects stands as the initial suggestion – and the craftsmanship of the Indian artisans, to propose a tableau of singularities overlayered in the materiality of the artefacts.
Photographs and handmade textiles significantly differ in the time of production: the first is considered an instantaneous act; the latter is the result of slow labour. Nonetheless, the potential of Vitturi's work stands precisely in his ability to tuning asynchronous rhythms into a performance with the weavers, as the etymology of the exhibition title – Jugalbandi – recalls. The works do not function then as singular objects; but rather as transitional sculptures, since they mediate between several individualities at once, bringing them together in the ritual of transformations.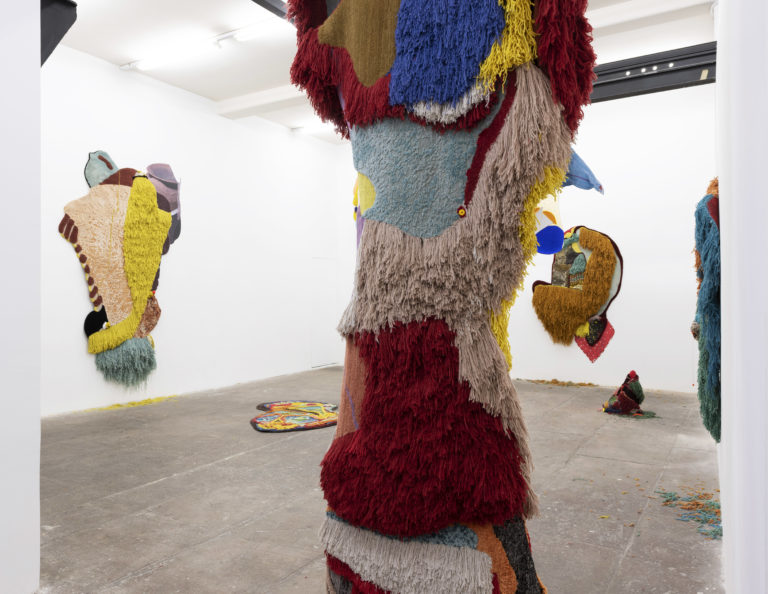 ---
Hangama Amiri – Bazaar, a Recollection of Home 

Review by Morgan Aguiar-Lucander 
Hangama Amiri's Bazaar actualizes its existence in our collective imagination. Granted, although it echoes a specific locale, the installation's setting straddles the physical and the psychic. For while Amiri anchors us to a particular place through her use of language, the likeness of particular individuals and the materiality of the medium itself, the artist speaks to a transnational sense of belonging—extending far beyond the borders of Afghanistan.
In contrast to a mall, outlet or set of storefronts, a Bazaar is not solely a setting for transaction but by its nature solicits participation from those who enter; if one leaves empty handed from the Bazaar an exchange has occurred, even in the absence of a material purchase. Amiri's Bazaar demands this same engagement from the viewer. We allow ourselves to be surprised, to find what we weren't searching for, perhaps partially obscured behind this or that veil, and to carry forward what we found as we depart the world she has constructed for us.
Hangama asserts a subtle rebellion through her practice, aligning the audience with her pursuit simply through our engagement with the installation. The many voices emerging from a plethora of fabrics and scenes sing out as a unified harmony. Works such as Nail Salon #1 present a space for women, run by women, with details and traces of those who populate it literally sewn into the fabric of the space. Form, material and pictorial content are unified in Hangama's Bazaar: not a reproduction, nor an empty shell, but rather a translocated home: a memory recalled, reconstituted and given.